Audiobook Production and Distribution
now offered in partnership with
Imagine your book enjoyed by listeners all over the world, distributed by Audible, the world's leading retailer of digital audio books, through outlets such as Audible.com, Amazon, and iTunes. With the help of eBookIt.com, we can make this possible.
Audiobook Production and/or Audiobook Distribution
You don't need to know how to make an audiobook yourself. We can take care of your entire project for you (audiobook production and distribution), including working with the actor that you select from our eBookIt approved vocal talent. However, if you prefer to record your book yourself or find your own narrator (i.e., create audiobook yourself), you can provide us with the completed audio files and we can take it from there (audiobook distribution only).
Audiobook Production Service
Our audiobook business has grown significantly over the years, that we have separated it from our ebook business and added more vocal talents. At Archieboy Audiobook Production, you begin by choosing one of our eBookIt approved narrators who will work with you to produce the sound most appropriate for your book. These audiobook narrators will provide us with the finished audio files, completely edited and ready to submit to Audible. Their rates are based on a "finished hour," which includes the narration and necessary editing. All prices are based on roughly 9000 words per finished hour.
Audiobook Distribution (NEW! August 2019)
Once we have a completed audiobook that meets the quality criteria of Audible.com (it certainly will if using one of our narrators, otherwise see below under "Do-It-Yourself Production"), we submit your audiobook for distribution. Within about 3-4 weeks after production, your audiobook will available through over 40 of the world's largest online audiobook retailers, libraries, and schools (worldwide distribution) including: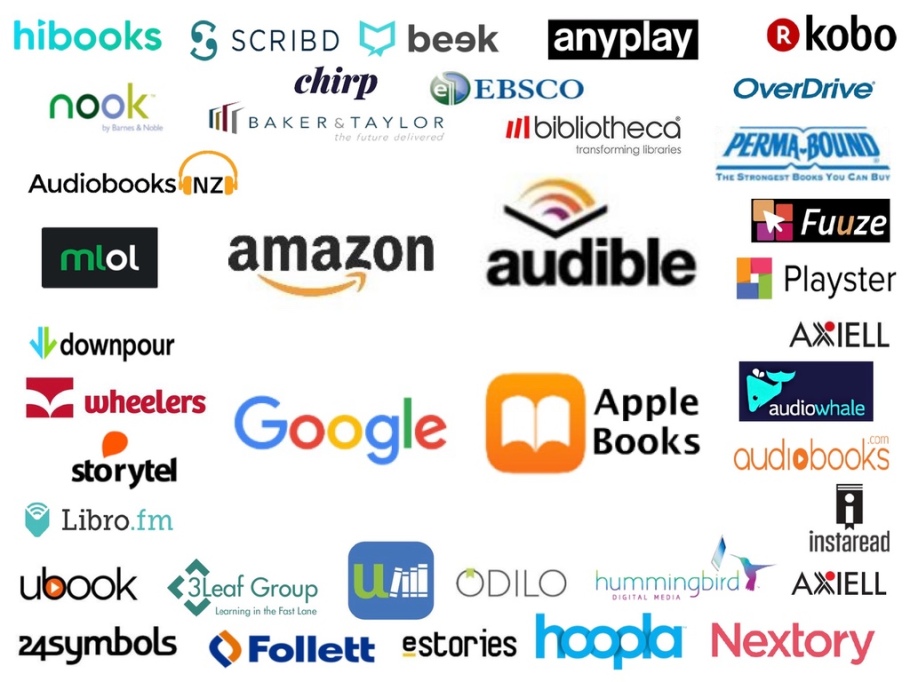 Depending on number of audiobooks sold/rented and the retailer, your royalty is anywhere from 25-50% of the sales price, and as with our ebook distribution, eBookIt.com's share is just 15% of the net sales (25% for non-exclusive audiobooks sold through the eBookIt.com bookstore). Download our distribution details sheet for full details.
What We Do As Your Audiobook Publisher / Audiobook Producer
eBookIt.com was founded to make the jobs of authors and publishers as easy as possible, assisting them through the often highly technical aspects of ebook, print book, and audiobook creation and distribution. There is a $99 setup fee plus the cost of the audiobook narration if needed (the setup is waived if we are doing your narration) and a 15% share of net sales. This fee includes the following:
The creation of an iTunes-ready audiobook to use for your own distribution. The audiobook files we create for you can be distributed through your own website(s), and will be sold on eBookIt.com. You name the price (it should be more than your ebook). In the eBookIt.com bookstore, we will sell your audiobook file for the full retail price. For an example of how your sales page would look, see this live book example.

Distribution to over 40 of the Internet's most popular online audiobook retailers, libraries, and schools.
Creating the audiobook image from your ebook image. Audible.com and partners require a 2400px x 2400px image. We will use your existing ebook image to create this image, by modifying it to fit the proportion. If you don't have your ebook with us, we will work with any existing cover image you have. If you do not have any cover image, we can create one for you for $99.
Quality checking and correction. If you are providing your own files, we run them through our quality assurance check to ensure they meet all of Audible's audio standards. We will fix simple issue for no charge, and we can fix more complex issues at our $100 per hour rate.
Registration / distribution & integrated reporting. We register your audiobook under our account and integrate the sales in your existing sales reports for the ebooks (if you have ebooks with us).
Complete management of the project from start to finish. We just need your book in a pdf or comparable format, and we take it from there, working with you in the process to make sure the product is turning out like you expect.
The print or ebook version of your ebook must be for sale on Amazon.com to use this service. If it isn't, we can help with that too!
Do-It-Yourself Production (How To Make Your Own Audiobook)
If you prefer not to use one of our audiobook narrators and provide us with your own recording, not a problem! For the a $99 one-time fee and 15% of net sales, we will take care of the spot-checking your files, submission, sales reporting, creation of iTunes-ready audiobook, and audiobook image from your ebook image (if not provided).
We will need completed audio files that meet the following requirements. If your files do not meet all the requirements, let us know and we can provide you with an estimate to make the needed changes and use what you do have.
Audio Requirements (if you are providing your own)
Opening and closing credits audio files. Two separate files are required to begin and end your audiobook.


Opening Credits:
[title of audiobook]
Written by [name of author]
Narrated by [name of narrator]

Closing Credits:
This has been [title of audiobook]
Written by [name of author]
Narrated by [name of narrator]
Copyright [year and name of copyright holder]
Production copyright [year it was recorded] by [company name]

All recordings must be human-voice -- no computer-read books accepted.
File type accepted: MP3 (192 kbps or higher)
Files must be CBR (constant bit rate) as Audible does not accept VBR (variable bit rate) files.
Submitted audiobooks may not contain both mono and stereo files. Stereo files must not be joint-stereo. Mono files are strongly recommended.
Each audiobook should be encapsulated in its own folder or directory. The directory should match the full title of the audio.
Each file must be comprised of a single chapter, episode, or story. Note that each file will typically become a "track" that a customer may use for navigation.
If the audio has no chapters, please split the audio into segments that are no longer than 2 hours each, but no shorter than 30 minutes each (when possible).
The files should be consolidated into individual Chapters.
Each file should be preceded by a three digit number that denotes the order in which the files should appear. The file names should appear as: 001_title.mp3, 002_title.mp3, 003_title.mp3.
Submitted audiobooks may not contain both mono and stereo files. Stereo files must not be joint-stereo. Mono files are strongly recommended.
Many MP3 encoders and decoders add or remove a few milliseconds of silence to the beginning and end of audio files. Please do not split audio files mid-word. When providing mp3 files, it is best that files are split during silent portions of the audio in order to avoid hearing gaps in playback.
Provide a sample file that is named, "title_sample.mp3." The sample audio must not exceed 5 minutes in duration. It should start with narration, not opening credits or music, and must not include explicit material. This sample is used by customers to preview your audiobook.
"Ripping" audio CDs is strongly discouraged as errors can often produce skipping and other audible glitches in the audio.
Be free of extraneous sounds (mouse clicks, mic pops, mouth noises, etc.)
Measure between -23dB and -18dB RMS and have -3dB peak values and a maximum -60dB noise floor
Each uploaded file must have between 0.5 and 1 second of room tone at the head, and between 1 and 5 seconds of room tone at the tail.
Image Requirements
Images must be no smaller than 2400 X 2400 pixels in size.
The resolution of these images can be no smaller than 72 dpi.
Images must be squared. The squared cover must be a true squared cover and cannot be rectangular with colored borders on the side. (ex. CD case cover/jacket)
Images should be at least 24-bit.
Images cannot refer to physical CDs or media other than the audio presented.
Pornographic and offensive materials are not allowed.
Image types allowed: JPEG, TIFF, PNG
Each image should be labeled as the full title (ex. Book_title.jpg) or ISBN (ex. 1234567890123.jpg)
Images must contain both the name of the title and author(s)
one moment please...
---